Best Fiberglass Pool Builder
Serving Toledo – Maumee – and Surrounding Areas
Bella Blue Pools provides the best fiberglass pool designs and service to create your outdoor lifestyle
Bella Blue Pools combines beautiful, low maintenance, and long life, fiberglass pool installations with gorgeous custom stone and paver deckings to achieve a turnkey custom look your friends and family will love!
Pool Shapes and Sizes
Check out the large selection of San Juan Fiberglass Pools to choose from.
There is one to fit everyone's needs!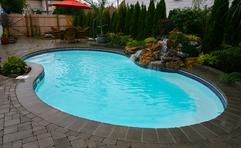 Spa Shapes and Sizes
A matching San Juan Fiberglass Spa to go with your pool will make the perfect combination. Or if you want just a spa, there are many to choose from.